OFGEM Visits Knowes Housing Association in Faifley
Knowes Housing Association were delighted to be selected for a visit to their office in Faiflley by OFGEM's Chief Executive Officer, Executive Director and four members of the OFGEM Board.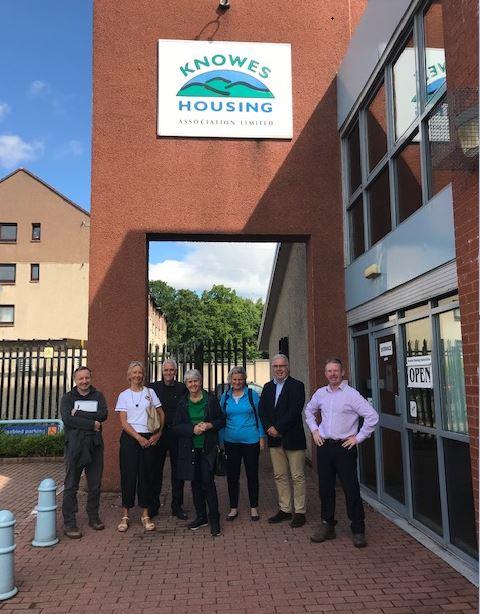 The group travelled up from their London HQ to see first-hand the excellent work Knowes HA have carried out in the energy and carbon reduction field, and in helping alleviate fuel poverty and reduce climate change.
The OFGEM visitors heard from Pierre De Fence, Knowes' Director about the work undertaken to install Solar PV to over 300 domestic properties, Knowes' office and a local care home and of how the installation was completed prior to the first reduction in the feed in tariff. They also heard from Pierre of the wider action projects that receive funding from the income from solar PV, including the provision of free energy advice to local residents and supporting local schools and community groups by way of donations. The income also allows Knowes to help with wider action environmental projects and Faifley's annual Gala Day.
The OFGEM group then visited a number of residents in their homes to see the roof top panels and hear from tenants how their electricity bills had reduced. Pierre also advised of the independent research that has been carried out since the installations, which shows the actual savings being made by tenants.
Pictured below are the CEO, Executive Director and four board members of OFGEM along with the Director of Knowes prior to setting off on a walking tour of Faifley estate and to meeting with local tenants.